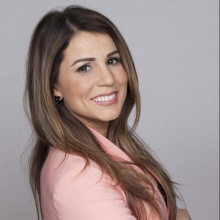 Ana Almeida
CTV Atlantic / Section Six Host
Ana Almeida hosts the popular entertainment segment, The A-List, which features the latest in entertainment, fashion and pop culture, on the CTV News at 5.
Ana started her career in radio, but has enjoyed being in front of the camera since 2011, when she started making regular appearances on CTV with a weekly gossip segment called Ana's Edge.
In 2013, Ana made the move to television fulltime becoming the host of the former entertainment segment, Section Six.
Ana is originally from the island of Sao Miguel, Portugal. She was raised in Cambridge, Ontario and it was there she studied Radio and Television Broadcasting at Conestoga College.
Ana made her broadcasting debut in 2009 at 91.5 The Beat in Kitchener, Ontario as Midday Host. She made her way east in 2010 to join the team at 101.3 The BOUNCE where she co-hosted Mornings on the Bounce.
Beyond her current work duties on CTV, Ana also devotes time to charities such as Special Olympics, and the Leukemia & Lymphoma Society.
Ana is also active on social media. To see what she's up to, you can find her on Twitter @AnaAlmeidaCTV.